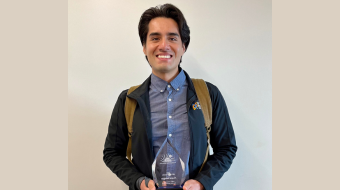 Congratulations are in order to Alvaro Sahagun, who received the 2023 Office of Graduate Education Service Award during the 2023 Recognizing Individuals Supporting Equity (RISE) awards celebration.
OGE GradDiversity
A collaborative effort of the Institute Community and Equity Office, Intercultural Engagement (i.e.), LBGTQ+ Services, Office of the First Year, Office of Graduate Education, Office of Minority Education, and Women and Gender Services — the RISE AWARDS celebrates MIT faculty, staff, and students on their work with diversity, inclusion, and social justice on and off campus. 
Alavaro, a 4th year PhD candidate was presented with the Office of Graduate Education Service award, for their efforts to broaden the participation of underrepresented minorities and underserved students interested in pursuing master's and doctoral degrees at MIT.
Alvaro's passion for supporting accessible higher education for underrepresented students is evident from his outreach and engagement as an undergrad and now at MIT. In his first year at MIT, Alvaro served as the short-term representative for the first-generation and low-income (FGLI) grad students within the MIT Graduate Student Council's Diversity, Equity, and Inclusion Committee. His focus was to create a central community for FGLI grad students and use it as a platform to identify the common issues faced on campus, which would help MIT find effective solutions to those challenges. After his short term, Alvaro became a Graduate Diversity Ambassador for OGE, where he has assisted in reading applications for the 2021 and 2022 MIT Summer Research Programs (MSRP), reached out to incoming and prospective underrepresented graduate students, and recruited prospective students at various regional and national conferences including SACNAS. Alvaro has also served as a Pod Leader for MSRP for two years and will join the cohort again for summer 2023.
Alvaro joined the MIT EECS Graduate Application Assistance Program (EECS GAAP). This program pairs underrepresented graduate school applicants with current EECS doctoral students to receive feedback on personal and research statements. In addition to being a mentor in '20, '21, and '22, Alvaro served as the EECS GAAP Treasurer in 2021, where he managed a +$25,000 fund, worked on providing eligible mentees with fee-waivers for applying to MIT grad programs for free, and collaborated with the EECS Graduate Office to fundraise to support the program. Alvaro has pursued various efforts to broaden the participation of underrepresented minorities and underserved students interested in pursuing graduate degrees at MIT through OGE programming or other avenues within and outside the Institute. Looking ahead, Alvaro intends to continue and increase his outreach and engagement at MIT, especially with OGE, GradDiversity, to recruit and retain more diverse talent. In addition, Alvaro has ongoing leadership and mentorship activities to support diversity at the MIT undergraduate level. He is involved with the Office of Minority Education's Mentor Advocate Partnership and Laureates & Leaders Graduate Student Mentoring Initiative.
« Back to News