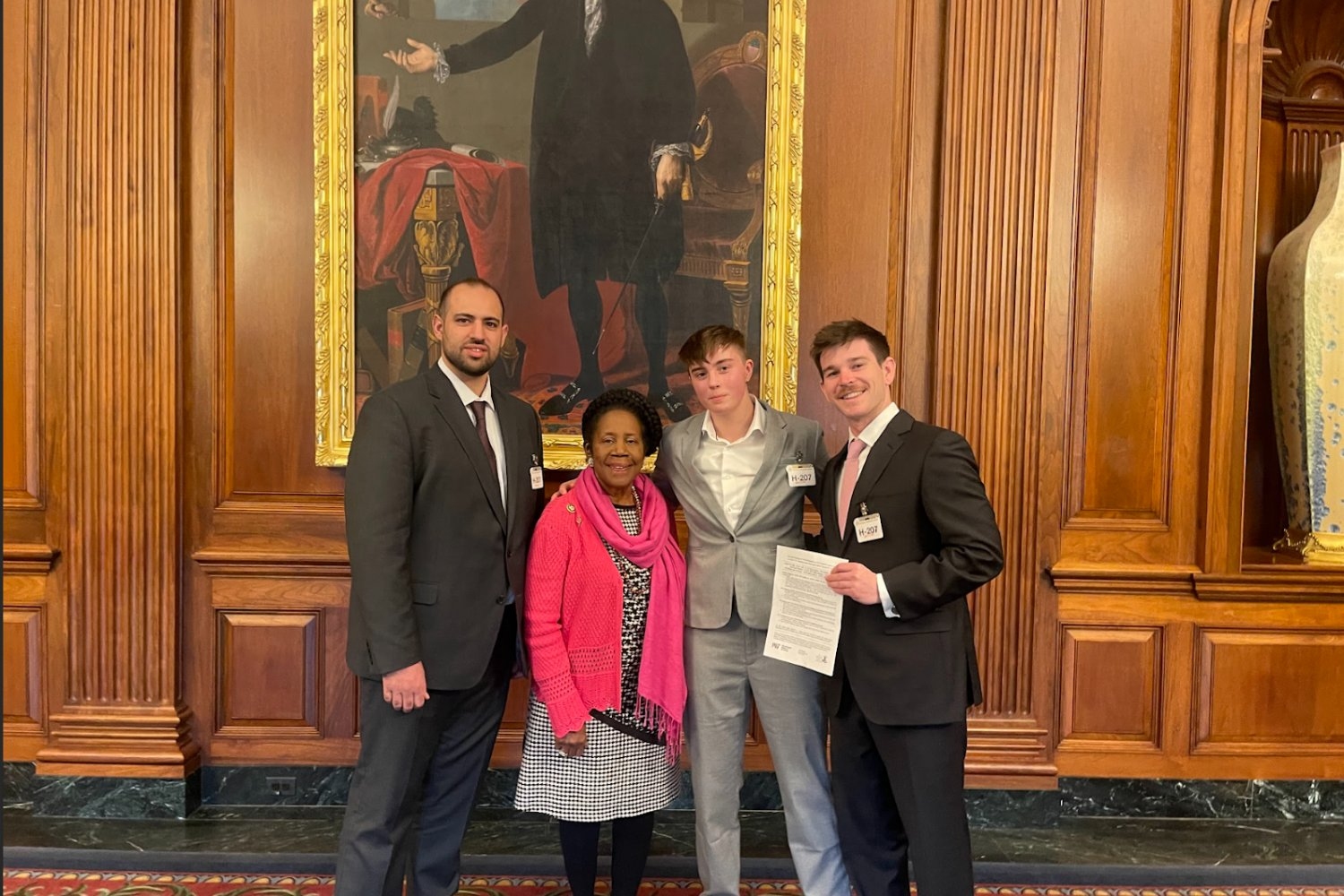 MIT's Science Policy Initiative sends students and postdocs to Capitol Hill to advocate for continued and increased federal support for scientific research.
Science Policy Initiative
A group of 20 MIT students and postdocs from various departments traveled to Washington from March 27-29 to advocate for increased federal funding of scientific research for the 2024 fiscal year. The trip was part of the Congressional Visit Days program, organized by MIT's Science Policy Initiative, a student-run organization that introduces the scientists of tomorrow to the policymakers of today.
The visit aimed to raise awareness about the importance of funding science research and the role that federal funding for the sciences has played in the lives of students and researchers at MIT and beyond. The timing of the visit coincided with the ongoing appropriations process in Congress, providing students and researchers a critical opportunity to participate in the nation's appropriations process and advocate for an increased budget for research.
During their visit, the MIT students and young professionals conducted training with MIT's Washington Office, learning more about how different political landscapes affect funding for the sciences, and how to effectively communicate and advocate for policies with Congressional staffers. Participants shared their personal experiences with research and how federal funding for programs such as the National Science Foundation Graduate Research Fellowships Program, a fellowship program to support outstanding graduate students, has enabled students to get critical experience. Participants also spoke at length about how agencies such as the National Institutes of Health, the Department of Defense, and the Department of Energy provide employment and economic development to the districts and states that they hail from.
Ippolyti Dellatolas, an international PhD student in mechanical engineering and co-organizer of the trip says, "We were grateful to be able to discuss scientific funding with policymakers across the political spectrum and understand their unique perspectives on these issues. It was truly enriching to share with them how we, as students and postdocs, are affected by federal funding for R&D."
The MIT delegation had a productive visit to Congress, holding over 55 meetings with senators and congressional staffers from 20 different states across the North, South, East, and Midwest regions of the United States. The discussions revolved around the impact of scientific research on state economies, the growth of industries in specific regions, and the role of federal research funding in driving economic growth and job creation.
The delegation emphasized that scientific research is not limited to the laboratory but has a ripple effect on various sectors of the economy, and provides opportunities for students and researchers at universities across the country. It also showcased examples of how federally funded research has led to the creation of new industries and products, including advanced manufacturing technologies, renewable energy systems, biomedical devices and bolstered vaccine development (including Covid-19 vaccines), and improved water purification and reuse.
Nirmal Bhatt, an international graduate student in the Technology and Policy Program, says, "It was powerful to meet with congressional offices and participate in the appropriations process. Representing federal funding for the sciences and discussing its importance to students, universities, businesses, and communities was an invaluable experience." The delegation's visit highlighted the importance of federal funding for research and development to ensure that the United States remains a leader in scientific innovation and discovery.
« Back to News