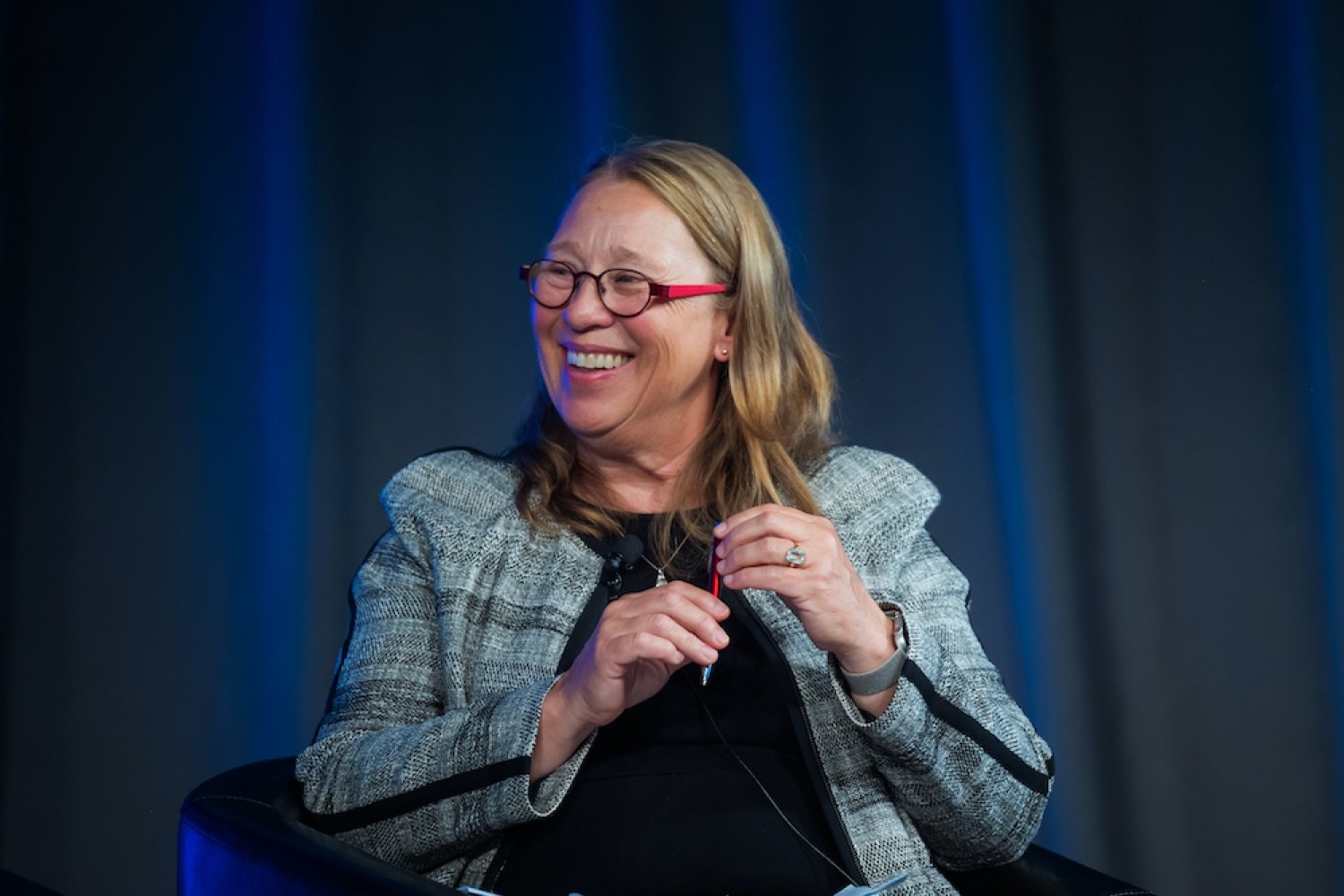 The MIT Energy Initiative's director of education shares new initiatives aimed at preparing students to take an active role in solving the climate crisis.
Kelley Travers | MIT Energy Initiative
The MIT Energy Initiative (MITEI) leads energy education at MIT, developing and implementing a robust educational toolkit for MIT graduate and undergraduate students, online learners around the world, and high school students who want to contribute to the energy transition. As MITEI's director of education, Antje Danielson manages a team devoted to training the next generation of energy innovators, entrepreneurs, and policymakers. Here, she discusses new initiatives in MITEI's education program and how they are preparing students to take an active role in climate action.
Q: What role are MITEI's education efforts playing in climate action initiatives at MIT, and what more could we be doing?
A: This is a big question. The carbon emissions from energy are such an important factor in climate mitigation; therefore, what we do in energy education is practically synonymous with climate education. This is well illustrated in a 2018 Nature Energy paper by Fuso Nerini, which outlines that affordable, clean energy is related to many of the United Nations Sustainable Development Goals (SDGs) — not just SDG 7, which specifically calls for "affordable, reliable, sustainable, and modern energy for all" by 2030. There are 17 SDGs containing 169 targets, of which 113 (65 percent) require actions to be taken concerning energy systems.
Now, can we equate education with action? The answer is yes, but only if it is done correctly. From the behavioral change literature, we know that knowledge alone is not enough to change behavior. So, one important part of our education program is practice and experience through research, internships, stakeholder engagement, and other avenues. At a minimum, education must give the learner the knowledge, skills, and courage to be ready to jump into action, but ideally, practice is a part of the offering. We also want our learners to go out into the world and share what they know and do. If done right, education is an energy transition accelerator.
At MITEI, our learners are not just MIT students. We are creating online offerings based on residential MIT courses to train global professionals, policymakers, and students in research methods and tools to support and accelerate the energy transition. These are free and open to learners worldwide. We have five courses available now, with more to come.
Our latest program is a collaboration with MIT's Center for Energy and Environmental Policy Research (CEEPR): Climate Action through Education, or CATE. This is a teach-the-teacher program for high school curriculum and is a part of the MIT Climate Action Plan. The aim is to develop interdisciplinary, solutions-focused climate change curricula for U.S. high school teachers with components in history/social science, English/language arts, math, science, and computer science.
We are rapidly expanding our programming. In the online space, for our global learners, we are bundling courses for professional development certificates; for our undergraduates, we are redesigning the energy studies minor to reflect what we have learned over the past 12 years; and for our graduate students, we are adding a new program that allows them to garner industry experience related to the energy transition. Meanwhile, CATE is creating a support network for the teachers who adopt the curriculum. We are also working on creating an energy and climate alliance with other universities around the world.
On the Institute level, I am a member of the Climate Education Working Group, a subgroup of the Climate Nucleus, where we discuss and will soon recommend further climate action the Institute can take. Stay tuned for that.
Q: You mentioned that you are leading an effort to create a consortium of energy and climate education programs at universities around the world. How does this effort fit into MITEI's educational mission?
A: Yes, we are currently calling it the "Energy and Climate Education Alliance." The background to this is that the problem we are facing — transitioning the entire global energy system from high carbon emissions to low, no, and negative carbon emissions — is global, huge, and urgent. Following the proverbial "many hands make light work," we believe that the success of this very complex task is accomplished quicker with more participants. There is, of course, more to this as well. The complexity of the problem is such that (1) MIT doesn't have all the expertise needed to accomplish the educational needs of the climate and energy crisis, (2) there is a definite local and regional component to capacity building, and (3) collaborations with universities around the world will make our mission-driven work more efficient. Finally, these collaborations will be advantageous for our students as they will be able to learn from real-world case studies that are not U.S.-based and maybe even visit other universities abroad, do internships, and engage in collaborative research projects. Also, students from those universities will be able to come here and experience MIT's unique intellectual environment.
Right now, we are very much in the beginning stages of creating the alliance. We have signed a collaboration agreement with the Technical University of Berlin, Germany, and are engaged in talks with other European and Southeast Asian universities. Some of the collaborations we are envisioning relate to course development, student exchange, collaborative research, and course promotion. We are very excited about this collaboration. It fits well into MIT's ambition to take climate action outside of the university, while still staying within our educational mission.
Q: It is clear to me from this conversation that MITEI's education program is undertaking a number of initiatives to prepare MIT students and interested learners outside of the Institute to take an active role in climate action. But, the reality is that despite our rapidly changing climate and the immediate need to decarbonize our global economy, climate denialism and a lack of climate and energy understanding persist in the greater global population. What do you think must be done, and what can MITEI do, to increase climate and energy literacy broadly?
A: I think the basic problem is not necessarily a lack of understanding but an abundance of competing issues that people are dealing with every day. Poverty, personal health, unemployment, inflation, pandemics, housing, wars — all are very immediate problems people have. And climate change is perceived to be in the future.
The United States is a very bottom-up country, where corporations offer what people buy, and politicians advocate for what voters want and what money buys. Of course, this is overly simplified, but as long as we don't come up with mechanisms to achieve a monumental shift in consumer and voter behavior, we are up against these immediate pressures. However, we are seeing some movement in this area due to rising gas and heating oil prices and the many natural disasters we are encountering now. People are starting to understand that climate change will hit their pocketbook, whether or not we have a carbon tax. The recent Florida hurricane damage, wildfires in the west, extreme summer temperatures, frequent droughts, increasing numbers of poisonous and disease-carrying insects — they all illustrate the relationship between climate change, health, and financial damage. Fewer and fewer people will be able to deny the existence of climate change because they will either be directly affected or know someone who is.
The question is one of speed and scale. The more we can help to make the connections even more visible and understood, the faster we get to the general acceptance that this is real. Research projects like CEEPR's Roosevelt Project, which develops action plans to help communities deal with industrial upheaval in the context of the energy transition, are contributing to this effect, as are studies related to climate change and national security. This is a fast-moving world, and our research findings need to be translated as we speak. A real problem in education is that we have the tendency to teach the tried and true. Our education programs have to become much nimbler, which means curricula have to be updated frequently, and that is expensive. And of course, the speed and magnitude of our efforts are dependent on the funding we can attract, and fundraising for education is more difficult than fundraising for research.
However, let me pivot: You alluded to the fact that this is a global problem. The immediate pressures of poverty and hunger are a matter of survival in many parts of the world, and when it comes to surviving another day, who cares if climate change will render your fields unproductive in 20 years? Or if the weather turns your homeland into a lake, will you think about lobbying your government to reduce carbon emissions, or will you ask for help to rebuild your existence? On the flip side, politicians and government authorities in those areas have to deal with extremely complex situations, balancing local needs with global demands. We should learn from them. What we need is to listen. What do these areas of the world need most, and how can climate action be included in the calculations? The Global Commission to End Energy Poverty, a collaboration between MITEI and the Rockefeller Foundation to bring electricity to the billion people across the globe who currently live without it, is a good example of what we are already doing. Both our online education program and the Energy and Climate Education Alliance aim to go in this direction.
The struggle and challenge to solve climate change can be pretty depressing, and there are many days when I feel despondent about the speed and progress we are making in saving the future of humanity. But, the prospect of contributing to such a large mission, even if the education team can only nudge us a tiny bit away from the business-as-usual scenario, is exciting. In particular, working on an issue like this at MIT is amazing. So much is happening here, and there don't seem to be intellectual limits; in fact, thinking big is encouraged. It is very refreshing when one has encountered the old "you can't do this" too often in the past. I want our students to take this attitude with them and go out there and think big.
« Back to News