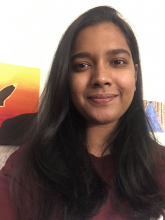 …or an ode to now dead literary references?
Spoiler Alert: If you haven't read Harry Potter, Catch-22, The Hitchhiker's Guide to the Galaxy, The Count of Monte Cristo – there are a few references here that you may want to skip. If I were a troubled friend seeking advice, I might ask you to be the Jeeves to my Wooster, or if grad school […]

Exploring beyond my (culinary) comfort zone
"Do you need anything from home?" say my parents whenever we chat, asking if I wanted anything to be mailed. "I'm good!" I usually reply. There was one thing I missed from home, but it certainly couldn't be mailed—the bakeries. Every visit to an Asian bakery was reminiscent of childhood memories of visiting the warm, […]

For one grad student, holding onto their scientific dreams involves more literal grip strength than you might think!
I was skimming the schedule of a conference last week when I saw the last thing any 6th year PhD student wants to see: a title that could describe my project, on someone else's abstract. I froze with dread. Did I just get scooped? No: the other project used a different experimental approach in a […]

Type II Fun - what it is, and why you should try it
As a statistics-loving graduate student, I am prone to quantifying everything. I have a tracking app for my running mileage, a separate one for my sleeping hours, and even a custom spreadsheet to grade fried hot chicken I've tried in Boston. One of the only areas of my life I don't quantify is the nebulous […]

Taking advantage of unique MIT experiences
MIT is a unique place, full of fascinating people and experiences that you won't have anywhere else. As students, I love to take advantage of the incredible opportunities offered by MIT. For example, it feels like a steal when I get to eat an amazing buffet of food while watching a free movie on campus, […]