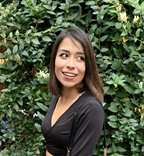 MIT can work for couples 
Coming with a partner to MIT
Do you believe that keeping up with a romantic relationship and completing a graduate degree abroad at a top university are incompatible? This is the story about how I was able to start a new stage of my career and initiate a new stage in my relationship at MIT. Hopefully, you will find this post useful if you are trying to better understand the experience of living with a Significant Other on-campus.
Making the move together
I still remember the first time my boyfriend expressed interest in traveling with me as I pursued a Master's degree abroad. The moment happened about a year before I submitted my applications to different schools around the globe. To be honest, at that time the idea of starting a new stage of my career and bringing a partner with me was nerve-wracking. My priority was to follow my professional goals. Furthermore, I thought that I needed total freedom and flexibility to start a new life in a different country.
However, as I reflected on this moment, I began to understand my boyfriend's motives to travel with me. I understood that bringing a partner was not necessarily a burden, but rather a support system. Two years into our relationship, we agreed that we would go live abroad together while I studied for my degree.
Do we have to get married?!
Once we decided to live abroad together and I received an acceptance offer to MIT, we started arranging the details of moving. We started to look for an apartment together and he started to look for a UX Designer job in Boston. Fortunately, as he is an American citizen, he was not required to have a special visa to work in the US. However, after a webinar organized by MIT Graduate Housing, I realized that we needed to be either married or in a Domestic Partnership to be able to live together on-campus.
Living on-campus has multiple benefits, among which is the fact that the housing can be more affordable for couples and that residents have access to multiple events and amenities. Nevertheless, I was not willing to get married yet! Also, I didn't think it was the right moment to organize a wedding, just a couple of months before starting my degree. This issue was a source of great concern for both my partner and me. Fortunately, after further investigation, we discovered that it was relatively simple to enter a Domestic Partnership in the state of Massachusetts.
A couple of months before the start of the semester, we applied for an efficiency apartment for couples at the MIT Graduate and Family Housing website. We were lucky enough to be placed at MIT Sidney-Pacific (often referred to as Sid-Pac), one of the most popular graduate residences. On our first day in Cambridge, we dressed up, despite the rainy weather, and went to the Cambridge City Clerk. The process to become domestic partners is quite simple. All you need is to bring your ID, pay $35 USD and sign some paperwork. After a few minutes, we received a Domestic Partnership certificate that we sent to MIT Grad Housing. We were set to start our new life together at MIT.
Living in a 300-square-foot efficiency apartment
Before arriving on campus, I was a little concerned that the space, only 300 square feet in total, would be too small for two people. However, after living on campus during a semester, I have only good reviews to share about the experience.
When we arrived, we were placed in an apartment with all the necessary furniture for a couple. We were given two desks and two office chairs so we could study and work in our own space. We were assigned two twin beds that we put together with a memory foam cover over them to make it more comfortable. We have two mini-fridges with all the necessary space for placing the week's meals for both of us.
Living on-campus has been not only comfortable but also practical. The MIT buildings are within a walking distance and MIT buses are always available to drive you around the campus. We have access to laundry facilities, game rooms, a gym, and common areas, among others. In addition, it has some special features such as weekly coffee gatherings, seasonal parties, and surprise snacks in the common kitchen.
Integrating into the MIT community
Another big fear as I made plans to come with my boyfriend to MIT was how hard it would be for him to integrate into the MIT community. With the benefit of hindsight, I can confidently say that MIT community makes a valiant effort to integrate significant others. The sports teams, cultural and free food events and MIT Clubs all include partners. Additionally, our residence organizes events twice or thrice a week where we had the opportunity to meet our neighbors.
Another great advantage that we have experienced is that my close friends have also become friends with my partner. Hence, they always invite both of us to social gatherings and we have even traveled together. For example, in the picture below, we are posing with the snowman that we built during winter after a snow fight that we held with our friends at Kilian Court.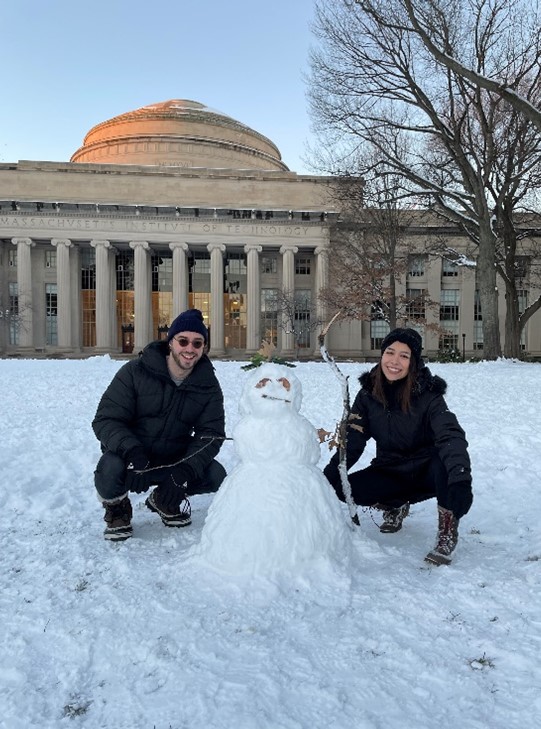 During the journey of coming to MIT with a partner, I learned that pursuing a graduate degree does not mean you have to leave your personal relationships behind. Furthermore, MIT resources and its welcoming community can help you navigate life outside the classroom.
One last tip: when you move on campus, don't be afraid to talk to your building director if you have any special needs. The housing staff is very welcoming to couples and willing to make your stay more comfortable. For example, the Head of our Residence kindly provided us with an extra mini fridge, considering that we, as a couple, would need more storage space. Furthermore, the Residence organized a welcome dinner for couples, where we were able to talk and receive advice from other couples that have been living in the Sidney Pacific Residence for a few years.
For further information, please refer to the Cambridge City Clerk's Office website and the MIT Housing & Residential Services website.
« Back to Blog