If you want, add a jump
My rewarding journey of becoming a group kickboxing instructor at MIT
How do you build yourself back up when life gets hard? Some of my friends find comfort in creating art, some in hiking, while some in building relationships. Since I came to MIT, I have found my charging station and creativite outlet in kickboxing.
At the beginning of my PhD, I picked up the habit of attending group exercise classes at Alumni/Wang gym, such as High intensity interval training (HIIT), yoga, and spinning. I found it relaxing to just follow the instructions, focusing on my body, and being temporarily absent from my grad researcher identity.
For me, kickboxing classes were love at first sight. They are intense, combining punches and kicks from boxing, Taekwondo, Muay Thai, and other martial arts. They are upbeat, usually accompanied by hard rock or electrical dance music with 135-150 beats per second (For example, I like punching to Skylar Grey's Wreak Havoc and getting in cardio training with Dimitri Vegas's Get In Trouble). They are challenging — you can always punch harder, squat lower, jump higher. I always challenged myself to the limit until I felt breathless and was rewarded with a sense of accomplishment and control. I found myself more decisive and more present after classes, pondering less about the past and worrying less about the future. I felt like a different person — a badass Yang whom I've never known but felt a strong attraction to.
The kickboxing workout drew me into practicing, but it was my instructor Chelsea who inspired me to become a group fitness instructor. She put so much passion into the class, demonstrating beautiful moves and giving helpful cues at just the right time. I couldn't help smiling when I saw her cheerful face. I saw myself standing at her position, sharing such fierce energy and uplifting spirits with a room of MIT participants, who come here feeling tired from work but leave feeling relaxed and strong.
The certification process turned out to be straightforward. I studied a textbook "The Principles of Group Fitness Instruction" to learn the foundations of exercise science and class planning. Then I passed the certificate exam issued by the Athletics and Fitness Association of America (AFAA), as well as the tests for CPR, AED & First Aid. I took specialized online training for cardio kickboxing and weekly training provided by the MIT Kickboxing club.
After completing these certifications and training, I became a group kickboxing instructor. Seems simple enough, right? But, no, be patient, my reader. There were still three mountains I needed to conquer before I felt like I deserved to be called a kickboxing instructor: body shaming, procrastination, and confidence.
Body shaming
During 2017 and 2019, I gained 30 pounds from stress-eating and lack of exercise. Looking at Asian actresses who are thin like chopsticks and fair-skinned like Snow White, I felt anxious at the thought of being looked at and judged. The class participants would notice all my imperfections—every time my flabby arms swung and every time my belly fat knotted like stacked donuts. How can I, someone who always fails to be motivated enough to make it to the gym and who always resorts to snacks when anxiety strikes, be a model of fitness?
For those of you who can relate to my struggles, I don't have a magic spell for solving the problem of body shaming. It took me 17 months of ups and downs, sweat and tears, to prepare my body and mind to be an instructor after getting the certification. It took a lot of incentivizing with new clothes and gears, engineering my environments, and creating peer pressure to keep myself on track with healthy habits. It took a lot of asking myself: what would a kickboxing instructor do? I learned to love my body—getting ample sleep, choosing healthier food, and pushing myself to work out every day. With these habits, I trimmed fat and built a more fit physique, but my biggest reward was taking on a new identity as someone with a healthy lifestyle, who has knowledge and control over how her body feels every day.
Procrastination
The week before I co-taught my first class, I didn't have my routine planned. And I only needed to prepare the workout for one song! I procrastinated because I wanted to choreograph the perfect set. To achieve perfection, I needed to study all available cardio kickboxing workout recordings online, review the basic moves of all martial arts, and rehearse with my friends at least three times. The tasks were daunting, especially if I didn't break them up and scale them down to fit my time constraints. It took me four nights of last-minute choreographing for classes—so late into the nights that my sleep was totally destroyed by the electrical music—to realize that there is no perfect choreography. Instead, I needed to create a reliable process for choreographing. After mastering the four basic punches from Boxing, four basic kicks from Taekwondo, and five possible directions that one can move her elbows in Muay Thai, how many possible permutations can I make? A lot!
Now, conditioned on the tempo and lyrics of a song, I can generate movement sequences, not by referring to any notes or pre-designed classes, but by listening to my muscles, which suggest a natural move to complete the combo. I frequently find myself in the middle of a movie thinking 'This soundtrack will make a perfect core workout'. I combat the fear of not preparing enough by trusting my experience from two years of kickboxing practice and trusting my instinct for design thinking. This trust allowed me to embrace my creativity when planning routines.
Confidence
When I attended kickboxing classes as a student, I used to think 'Wow, it's so cool to be a kickboxing instructor!' and I pursued that goal fearlessly. But during the weeks leading up to my first class, I was swamped by imposter syndrome. You see, becoming an instructor wasn't so difficult, so I was fearful that people would soon find out that I'm just an amateur pretending to know the profound traditions of martial arts.
In the first class, I took the risk of using my favorite rock hits instead of specialized workout remixes. I also had to improvise a few jokes to cover up my mistakes when I forgot the next move. Despite my errors, friendly participants came to me after class saying that they liked my music choices and my fun prompts. That's when I realized that my confidence doesn't originate from pretending to be a kickboxing expert, but being comfortable coming as I am, with all my quirks and style. After all, participants come for a good workout and a good time. I come to teach because I know what makes a good workout—matching music, progressive challenges, and motivating cues—and I am eager to share those with others.
In summary, my friend, I learned a little about how to be a happier grad student by becoming a kickboxing instructor—working hard to build new identities and habits in face of self-shaming; focusing on improving the process instead of seeking perfection to fight procrastination; finding out and appreciating what makes me me to build confidence. Kickboxing has taught me all these lessons, and has given me a stronger body and a stronger mind.
Now I ask you: what will be the jump to add to your MIT life?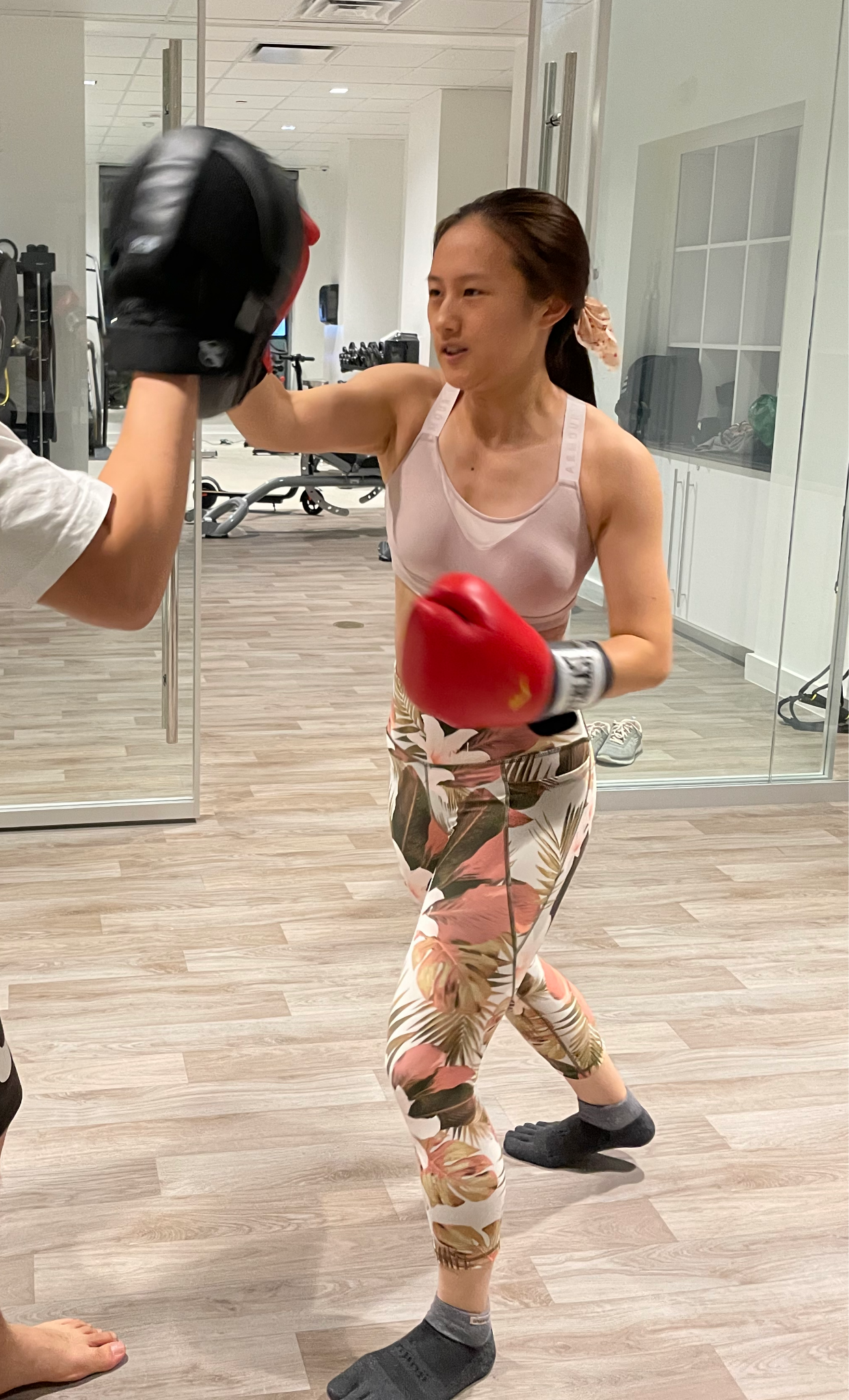 Practicing boxing combinations with my pal
« Back to Blog