How my journey to the Philippines brought me to MIT
…and connected me with an incredible mentor
During the summer of 2019, my mom and I visited the Philippines for our first-time to meet relatives and learn more about our heritage. To see as much of the country as possible and to meet as many people as possible, my family rented a van for a two-week road trip. I met a LOT of people, and through these introductions I was able to make a very special connection in Baguio with a great-aunt's cousin's sister's best friend's son.
"Oh, so you're interested in environmental fluid mechanics. My brother, Adrian, is a graduate student studying that at MIT."
"Really, does he know Dr. Heidi Nepf?," I replied, naming the only professor I knew of at MIT.
"How do you know Dr. Heidi Nepf? My brother did research with her before."
"My undergraduate research advisor mentioned her name once, lucky coincidence," I replied, shocked by the fact that he knew this specific professor.
"Wow, what a coincidence."
After the conversation, I asked for Adrian's email address…and then left it sitting in my phone untouched for months. How does one introduce themselves to their great-aunt's cousin's sister's best friend's son's brother and tell them about all that you share in common? During these months, I solidified my desire to go to graduate school. Finally, I mustered the courage to reach out.
This email ended up being one of the most pivotal emails that I have ever sent in my life. Adrian was so incredibly friendly, kind, and willing to answer all of my questions about graduate school. I was curious about his research, his experience as a graduate student, and what he thought of MIT's academic culture. After he replied and we exchanged a few emails, I immediately felt as though I had met a kindred spirit who shared my love of environmental fluid mechanics. It was an instant friendship and we bonded over our experiences doing laboratory flume experiments, pursuing our undergraduate degrees at schools in Pennsylvania, and majoring in civil engineering.
Adrian also happened to be directing the MIT Water Summit 2019: Drowning in Plastic, and he invited me to submit a poster to present at the event. Attending the MIT Water Summit was an incredibly formative experience for me. This event was my first introduction to the water and environmental research community at MIT. Everyone was incredibly welcoming and shared my passion for all things water. I easily made connections with the presenters and students who were committed to addressing the challenges that plastic poses to the ocean. They all left me feeling energized and excited about ocean science. Prior to this conference, I was unsure if I would be able to pursue ocean related research with an undergraduate degree in civil engineering. Here, I was able to talk with MIT Civil and Environmental Engineering and MIT-WHOI (Woods Hole Oceanographic Institution) Joint Program graduate students and learn about their research and life at MIT. With each conversation, my interest in MIT and ocean science grew, and I started to think that maybe, just maybe, I could come here one day and fit in.
Presenting my poster at the 2019 MIT Water Summit
Prior to attending the summit, I never thought of myself as someone who could or would want to go to MIT. As a junior in high school, I toured MIT's campus. By the end of the tour, these were my impressions:
1. MIT is a pretty rad place with some funky architecture
2. MIT is an incredibly intimidating place where I don't belong
Adrian shared that spending a summer at MIT through the MIT Summer Research Program (MSRP) helped him to feel a sense of belonging in the MIT community. This program seemed like the perfect opportunity to "test the waters" and see what MIT is really like. The goal of MSRP is to give students from diverse backgrounds a chance to conduct impactful research at a top institution, while also preparing students for graduate school. As soon as I got home from the summit, I began working on my MSRP application. Shortly after my acceptance to MSRP, I learned that it would be virtual due to the pandemic. Even though I was disappointed that I would not be visiting MIT, I channeled this disappointment into motivation to come to MIT as a graduate student the following year.
MSRP taught me that the majority of MIT graduate students are not so called "geniuses." Instead, they are highly motivated people who are dedicated to pushing scientific boundaries in their respective fields and being a force for good. This program reassured me that even though I didn't go to an Ivy League or Ivy League adjacent school for undergrad, I could still thrive and succeed at MIT as a graduate student. Growing up in central Pennsylvania, I didn't know many (or any) people who attended prestigious schools or who pursued a PhD. I was unsure if I could fit in or be happy at a place like MIT.
For additional reassurance, I decided that I would talk to as many graduate students as possible. Reaching out to Adrian was one of many emails that I have sent. These emails allowed me to make meaningful connections at MIT and beyond. Listening to the wisdom of others helped me to learn more about research opportunities in environmental fluid mechanics, what I should look for in a graduate program, how to choose an advisor, and how to find a healthy work-life balance as a graduate student. They also helped me to build my confidence throughout the graduate school application process, which gave me the motivation to showcase my passion and abilities in my personal statements.
You don't have to go to the Philippines or reconnect with a distant relative's friend to end up at MIT, but you should connect with current students. If you come across a cool graduate student on a lab webpage that you are interested in, reach out to them! You never know, you just might be their future lab mate one day.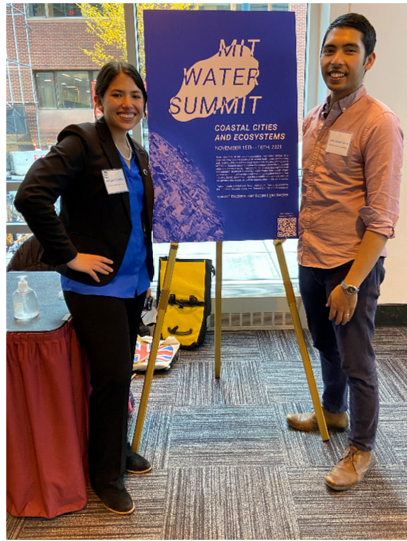 Adrian and I are posing for a photo at the 2021 MIT Water Summit. This experience came full circle for me during my first semester at MIT, as I co-directed the summit and Adrian was also a member of the summit team!
« Back to Blog