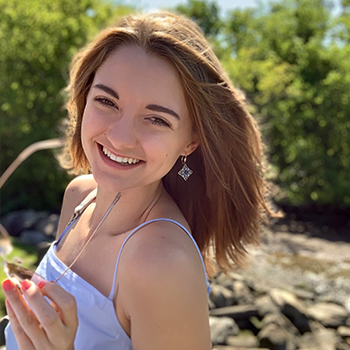 How I became an engineer overnight
From basic science to medical engineering
Applying to graduate school is a nerve-wracking process. It's a blanket of excitement that, when uncovered, reveals a flood of conflicting emotions–from wondering whether you are rushing and have no experience and should work for a few years to questioning your self-worth and doubting if you have any unique qualities.  Frankly, like any admissions process, it felt repetitive, cliché, and sometimes not entirely honest.
"What do they want to know? What do they want to hear?" I thought. "Is this enough, am I enough?"
I was in my final year at American University (AU), a liberal arts college that is not known for its sciences and does not have an engineering program. When prospective students asked about an engineering track, we would often respond with, "Well, we have calculus and some physics."  AU has its redeeming qualities, of course, but I in no way felt prepared to apply to Ph.D. programs in any field other than basic science.
While I may not have felt prepared to jump into the field of engineering and devices, I knew that that was what I wanted to pursue. I was a neuroscientist, and I was tired of pipetting. It was my longtime dream to venture into the biotechnology industry and study brain-machine interfaces and how they can be utilized to treat neurodegenerative disorders. I wanted practical, translational, patient-oriented research and engineering.
When I stumbled upon the Harvard-MIT Health, Sciences, and Technology (HST) Medical Engineering and Medical Physics (MEMP) Ph.D. Program, I was overcome with joy and, shortly after, dread. The program was simply perfect.  It combined the clinical, translational, and engineering work into one program, something that I had not come across at any other institution before. There it was in front of me; my search for my ideal program was over, and yet, I shut my laptop and said, "There is no way."
I committed most of my time away from classes to writing my personal statement. I applied to 10 schools and they were all generally the same: "What research have you done, what research are you interested in, why this institution?" 10 semi-unique statements that a quick copy and paste could fix. Given how simple that was, I thought I would give MIT's application a try.
It did not come as a surprise that the requirements for MIT's personal statement were more exhaustive. Not only did MIT want to know about my previous research experiences, but also my best and worst qualities, what diversity I would bring to campus, and pretty much my entire upbringing and life story leading up to this moment. Oh, and keep it to a page and a half.
I recall a few of my advisors telling me that I should drop the MIT application. That it is difficult, long, and I will likely not be accepted anyway. But I persevered. Whether it was because of my love for the program or the nagging desire to prove them wrong, I still do not know. My advisors were, however, correct in one regard: this was the hardest application I had ever written.
I spent months pulling myself apart in pieces. By the end of it, I began to question who I was as a person, if I was presenting myself in the "right" way, and if I was even credible enough to be applying to the leading technology and engineering institute in the world. I was, after all, applying to basic science programs at other universities.
All I could hear was, "Do not write about this, you cannot tell them this, this will get you rejected immediately," and so on. I was exhausted and emotionally drained.
I ended up taking two weeks off from this application to truly think about how I wanted to present myself and what I needed to say to peak MIT's interest in me.
Well, full disclosure, MIT, my final submission to you was a draft none of my advisors or friends or anyone saw. It was almost entirely unedited and free of any outsider suggestions (risky, I know). Yes, it had a structure, but it was one of the only applications that I submitted without wondering what the school would think of me. I stated my truths, plainly and honestly. That single personal statement was entirely me.
I took the same approach with the interview. I smiled, laughed, joked, explained my research, and, more importantly, my interests to expand and pursue something completely foreign to me: engineering.
I applied to 10 schools, and only one accepted me: MIT.
Suddenly, I was not limited by the number of publications I had yet to write, but rather the doors to the world of biotechnology and engineering that I had yet to open. I could quite literally do whatever I wanted. Industry? Sure! Medicine? Certainly. Entrepreneurship? Absolutely.
I share this story as a way to say, "Do not fear a lack of experience or knowledge." Follow your interests and passions, believe in your self-worth, grit, and dedication. A large panel of reviewers and counselors, while an added bonus, may not be necessary. I took a chance on myself and on MIT because I acknowledged that I had so much more to learn. Experience and skills can be taught, but character and vision provide you with a launching pad.
I have dreamt about walking the halls of MIT since I was a little kid, but never did I stop to think about what it actually might feel like to be here. It is simply surreal.
I have learned to embrace my whole self and experiences that have formed my character today. To all the biologists, chemists, neuroscientists, and so on hoping to pursue a change in discipline, do not be discouraged. Look at me: I am a neuroengineer, a medical technologist, an entrepreneur, a student of the world. More importantly, I have learned to fearlessly dive into a world of the unknown and the seemingly impossible, because it is often the things we are most afraid of that become the most rewarding in the end.
« Back to Blog