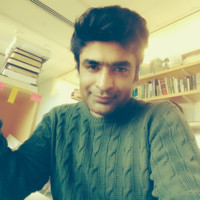 How can Philosophy Help Policy?
How I stepped outside my comfort zone and attended courses outside my research area
Before coming to MIT, I had no idea how much courses outside my field could influence my research and shape my intellectual beliefs. I had earned a bachelor's in Mechanical Engineering and a master's in Earth and Atmospheric Sciences with a minor in public policy. I had also worked with the Government of India on public policy issues as an advisor to Minister Planning for three years. While applying for a Ph.D. with all my academic and professional experiences, I was convinced that my research interests are in environmental policy. I had also expressed it in my grad school applications by specifically mentioning the kind of research questions I was interested in.
Before arriving at MIT, I had thought that I'd only pursue courses in public policy relevant to my research questions. However, what I experienced here was totally unexpected: my academic mentors encouraged me to attend courses outside of my public policy focus, such as courses in political philosophy, political science, and economics. Having access to Harvard courses next door only made my experience more rewarding, for it allows students to have the best of both worlds.
I have learnt some valuable lessons by attending about twenty courses in the first two years of my Ph.D. in Department of Urban Studies and Planning (DUSP) — majority of which have been outside the department.
Most memorably, a philosophy course taught by Amartya Sen, Barry Mazur and Eric Maskin at Harvard changed the very foundations of my intellectual thinking. The course was about the concept of utility in social sciences. It covered Ancient Greek and Enlightenment philosophers, and how their legacy has shaped modern thinking about utility and its applications in various branches of social sciences. I realized that the course had huge implications not only for questions in decision theory and ethics, but also for the policy problems that I am interested in. What made this course unique was how these professors successfully convinced the class at the end of the course that, regardless of one's research focus, the intellectual foundations of major research problems can be traced back to philosophical dilemmas. This not only broadened my intellectual horizons but also helped me become a better scholar.
This unparalleled intellectual freedom to pursue wide-ranging courses also comes with a rider. Grad courses are often very rigorous, and have rigid requirements and high expectations. It may not be a first-best choice, for one may not benefit much without a strong background necessary to do well in many advanced graduate courses. However, thanks to MIT's pedagogy in promoting a collaborative learning environment, the outcomes are generally positive and, in many cases, memorable.
What I learned from doing a diverse range of courses is that it usually results in two outcomes, both of which are helpful: either it reinforces our original research focus or it allows us to discover our true research interests. The latter is especially important; as one of the professors in my first semester put it, "unless MIT forces you to rethink your pre-existing intellectual beliefs, the purpose of grad education is not well served".  We all come to school with some research interests, and if we just continue without feeling the need to reevaluate them, we will never find out whether the choice we made was simply dictated by the lack of options. The best choice only emerges when we have gathered necessary information about various research areas, which a diversity of courses can provide to us.
So try this next semester: look out for what other departments have to offer, try that one course which you think is very different from your current focus. It's very likely that you will do it again. I'll end with a suggestion to science and engineering students: try a course in philosophy this semester, for famous names who made immense contributions to science — such as Galileo, Descartes, Kepler, Voltaire, Pascal, Newton, Lomonosov, Mendeleyev, and Einstein — were not only extraordinary scientists, but great philosophers, too.
« Back to Blog