Escape MIT for a weekend
My favorite weekend getaways around New England
What will you do if you have a weekend free? Netflix? Video games? How about getting out of your (dorm) room and travelling to another state?
During my undergraduate study, I spent one seminar in a small town north of Boston doing a co-op (i.e., a 6-month internship). Away from campus, I was free of the usual stressful coursework and time-consuming extracurricular activities, so I suddenly had a lot of time to kill during the weekends.
What did I do with this new freedom? As an avid traveler and a big fan of road trips, I decided to drive around New England and explore many places that, it turned out, are great for day trips or weekend getaways.
Now as a graduate student at MIT, I have realized, even more, the importance of taking time away from research to relax and enjoy oneself—or basically to recharge yourself and reconnect with the "real world."
To inspire you to escape, here are five of my favorite weekend getaways around New England, all a short car ride away from Cambridge.
Number 5: Stowe, Vermont (3-hour drive)
If you enjoy skiing and/or snowboarding, you can't miss the Stowe Mountain resort. If you are a fan of The Sound of Music, you must check out the Trapp Family Lodge and, while there, watch documentaries about their family history. If you love ice-cream, you have to visit the factory of the iconic Vermont-based ice cream maker Ben & Jerry's. All that is just a 3-hour drive from Cambridge. In fact, there are so many things you can do in Stowe that you will find that one weekend is not enough!
Number 4: White Mountains, New Hampshire (3-hour drive)
Also 3-hours away, the White Mountains are my to-go place for seeing fall foliage. The best time to visit is during the fall break (early- to mid- October). Hint: You can follow the foliage tracker to figure out when is the peak time to go "leaf peeping". You should book your hotel in advance as many people tend to plan trips around that time. Moreover, if you are outdoorsy and like hiking, there are plenty of trails and mountains to explore, including the impressive Mount Washington.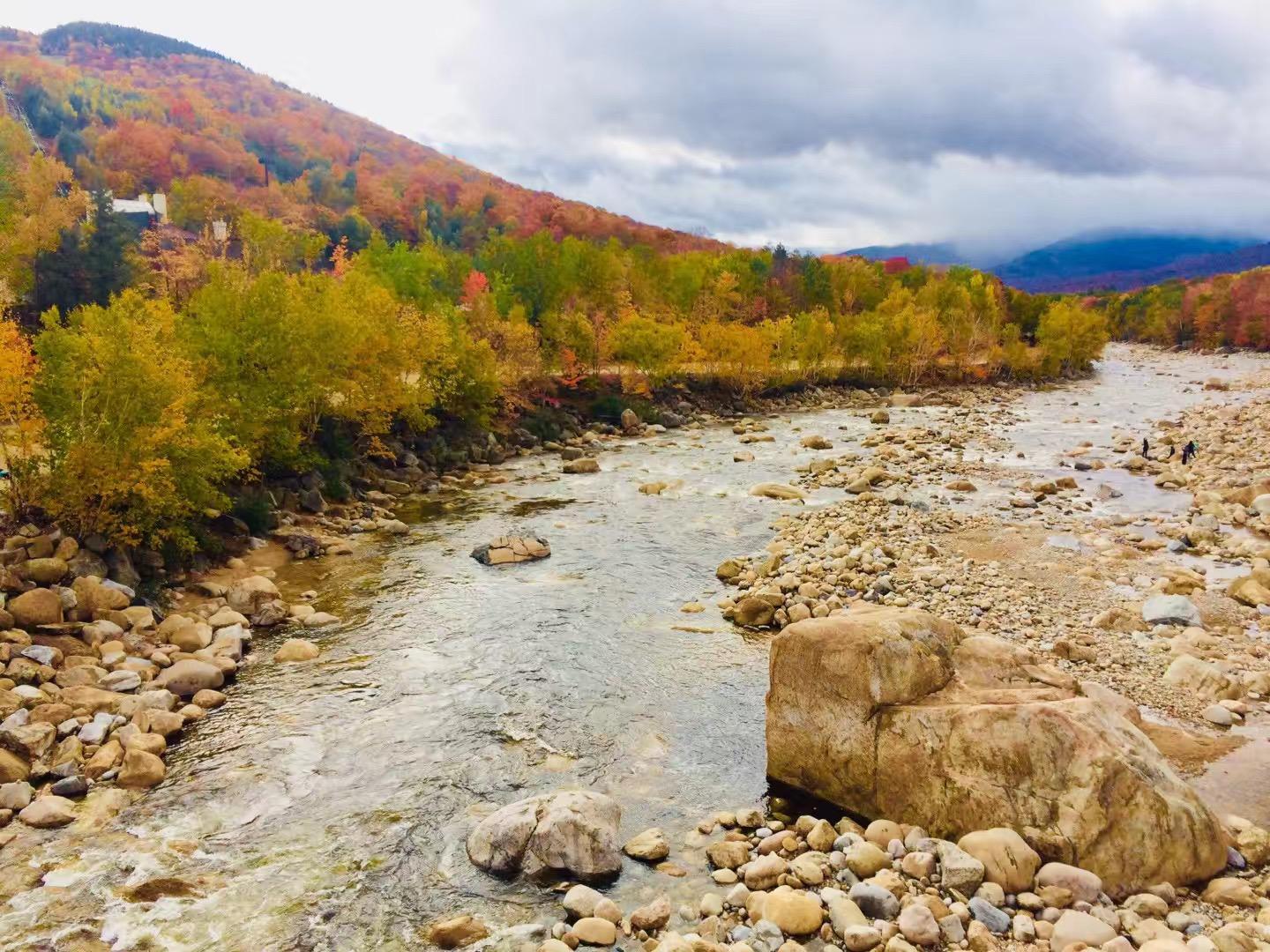 Cannon Mountain in the White Mountains area
Number 3: Providence/ Newport, Rhode Island (2-hour drive)
Rhode Island is a pleasant 2-hour drive away from Cambridge. Providence, a small college town, is home to Brown University (an Ivy!) and the Rhode Island School of Design (with a museum worth checking out). Very close to Providence, the city of Newport has a completely different vibe. It is known for the Gilded Age mansions that are located near the ocean—the most famous of which is called The Breakers. You can choose to visit one or more mansions, as many of them are now museums.
Number 2: Rockport, Massachusetts (1-hour drive)
I find Rockport a hidden gem that not many people know about. Located at the tip of the Cape Ann peninsula, around 40 miles away from Cambridge, it is surrounded by the Atlantic Ocean in all directions. It's a nice little town with great bakery and coffee shops, such as Brothers Brew Coffee Shop (you should try their donuts!). The Roy Moore Lobster is also a must try. You can get fresh lobsters at a low price.
Number 1: Acadia national park, Maine (5-hour drive)
Acadia national park is, by far, my favorite place around New England. Although it's a bit far from Cambridge (it takes a solid 5 hours to get there), it makes a great weekend trip if you are looking for nature, and especially if you like hiking. At Acadia, you can see sunshine on top of the Cadillac mountain. In fact, for half the year—roughly from the second week in October through the first week of March—Cadillac's height and coastal perch make it the first place in the easternmost state where the sun appears. (It was the second place where the sun shone when I visited in July.) There are also many hiking trails. I liked the Beehive the most; it's very challenging but the view is absolutely worth the effort.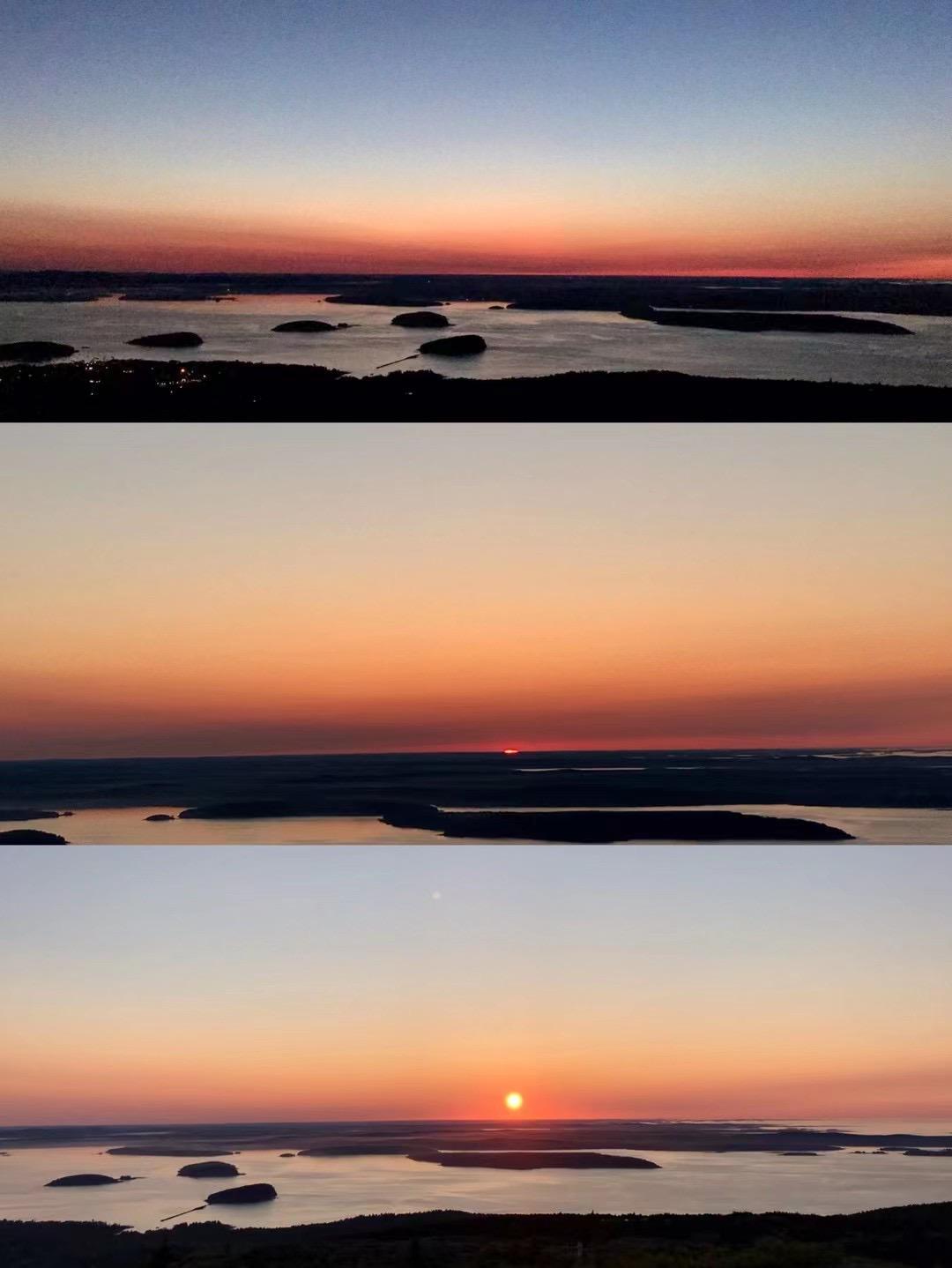 Sunrise at the Cadillac mountain peak
The best way to get around New England is via car. As MIT students, we get student discounts if we rent cars from Budget and Avis with the under age fee waived. That makes car rentals quite affordable. Alternatively, if you only plan to use the car for a few hours, you can also get a zipcar membership for $35 a year under MIT perks. You can also rent out a zipcar by hours at an hourly rate around $10-15.
In graduate school, it's extremely important to maintain balance. Traveling is a great way to relax and de-stress. As there's a lot to explore around New England—way more than just my top 5—so get ready for your next weekend getaway!
« Back to Blog