3 things I did as an international graduate student this summer
And three that I wish I had devoted more time to.
When I was accepted to the Master of Science (M.S). in Comparative Media Studies last summer, I had very specific goals of how I wanted to spend the next two years of my life in Boston: conducting ethnographic research, volunteering in several organizations, networking, and learning how to sail during the summer on the Charles River. For obvious reasons (a pandemic), things didn't quite happen as I had planned, and I stayed in Mexico. In retrospect, I believe that had I spent my summer in Boston, I would not have been able to explore different career paths as I have been able to for the past three months. As an international student, I'm not allowed to get an internship or job in the US during the summer, which limits my options compared to some other students who have US citizenship. The purpose of this post, as someone who just finished her first year, is to share with you how I have spent the summer, but more importantly, why I think my summer experiences have helped guide my future after MIT. Here are my suggestions for how to make the most of your summers during graduate school.
1. Professional development: Get an internship abroad through MISTI
If you are an international student, everybody will tell you that even though it is possible to obtain a summer internship while you are a student, it is not worthwhile because you would need to use part of your Optional Practical Training (OPT). The OPT is a type of work authorization that permits international students to gain work experience in their field of study while in the United States. I agree that in most cases, it is not worthwhile to rely on your OPT for a summer internship. However, if you think that you could benefit from an internship, you should check out MISTI, an internship program that matches MIT students with projects in companies and labs around the world. In my case, I contacted the organization, and MISTI arranged everything else. As an intern at the UN Mexico (Department of Global Communications), I proposed my own project. I decided to create a series of videos about Mexican women in science to motivate girls to pursue STEM careers. Overall, I have learned how research can be conducted and applied outside academia, explored career opportunities, and built professional relationships.
Pro Tip: The process to apply for a MISTI grant is straightforward. Yet, as a graduate student, MISTI expects you to find the organization or research lab that you want to work with, so I'd recommend that you start this process early.
2. Personal goals: Apply for a grant to develop your own project 
MIT will encourage, support, and motivate you to bring your ideas to life. Grants might help fund part of your research or enable you to accomplish personal projects that otherwise would be out of scope during graduate school. This summer I applied to the TSI Grant to develop a VR short documentary. As a researcher at the Open Documentary Lab, I wanted to explore immersive technologies as a way to reconstruct spatial memories. Additionally, other people have recommended the PKG Center as an avenue to get funding for a public service project, even though I have not personally submitted an application to the center.
Pro Tip: For any application, I would recommend talking to the organization about your proposed idea well before the deadline; the organization will often have extra infomation to strengthen your application, including information which may not be publicly available.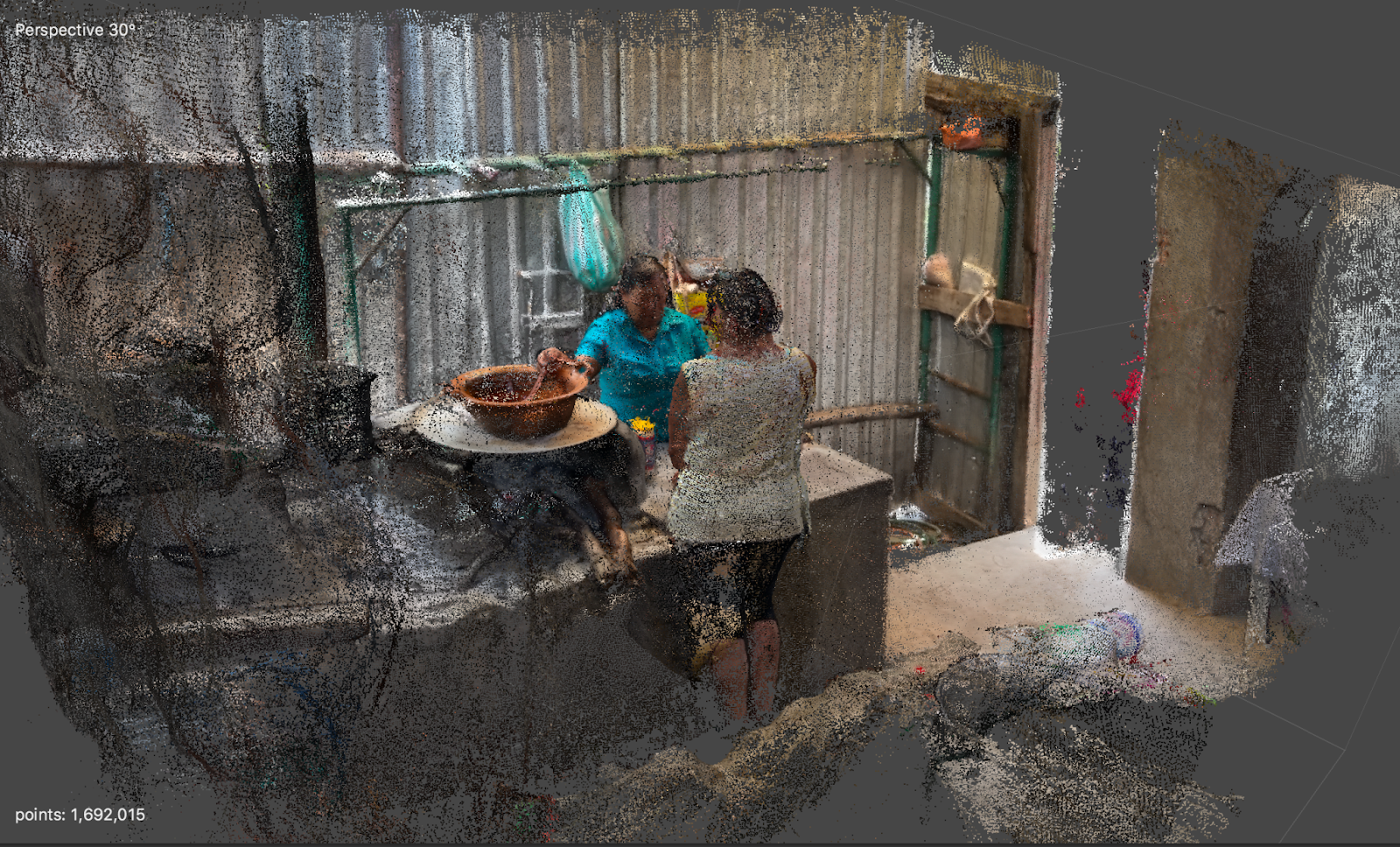 Still from my project (Photogrammetry and point cloud)
3. Conduct research: Get a head start on your thesis
As a master's student, I only have two years to complete my research. I decided to use part of my summer to get a head start on my thesis. Taking the time to do a complete literature review, if you haven't already completed this task, is a beneficial way to spend your summer and get ready for the fall. Overall, I think that summer is an excellent time to think about your research without the pressure of taking classes.
Pro Tip: If you plan to collect data, use the summer to plan your research, submit an application for IRB approval, and if your research includes human subjects, take the COUHES exam.
Time flies by during graduate school, especially when you take advantage of the diverse activities that MIT offers. The next semester is about to start, and there are certain things that I wished I have taken more time to do:
Take time to settle in Boston. I arrived in Boston only one week before classes started. That means that I only had seven days to set up my place and do all the bureaucratic stuff (opening a bank account, getting my MIT ID, etc.) before the school year began.
Plan ahead. Research PhD programs and requirements. Though, there are some people who apply to a PhD while working or finishing their masters, this is something that I am not doing. I would have liked to spend more time talking with professors and students from specific programs to get a sense of the academic environment, as I plan to apply to these programs in the future. Pre-application talks help to determine if the program is a good fit for you and vice versa. Potential advisors can learn about you, your interests, and how you could benefit their current projects. Similarly, you could get a sense of whether the professor and research are a good fit for you.
Exercise. I didn't exercise during the summer as much as I would have wanted (I had hoped to spend the summer biking across Boston), but now I've had the opportunity to do it much more. I highly recommend biking along the Charles and the Minuteman trail during the fall to see the trees changing colors.
My recommendation for you is to divide your time and diversify your activities. I wanted to explore different options and determine which environment or field was ideal for me to thrive, as I believe that you can't know the best option for you if you haven't tried it. For instance, when I started my internship at the UN, I thought that that was going to be the project that excited me the most. However, after exploring other opportunities, I realized that conducting ethnographic research ended up being more fulfilling for me. Even though I was not able to volunteer as extensively as I wanted, I was able to help a grassroot organization taking photos and videos for their social media platforms through my research. Lastly, I did not learn how to sail, but it's still on my bucket list! In summary, my suggestion is to try as many things as you can and to expose yourself to new people and ideas. MIT will give you the space and resources to do it.
« Back to Blog