Melissa Guereca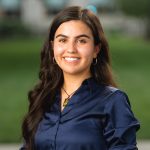 MIT Department: Biological Engineering
Faculty Mentor: Prof. Darell Irvine
Research Supervisor: Parisa Yousefpour
Undergraduate Institution: University of California, San Diego
Hometown: San Lorenzo, California
Website:
Biography
Melissa Güereca is a fourth year at the University of California, San Diego, majoring in Microbiology. Her research has focused on investigating the formation of intersegmental chimeras in the Influenza A virus while recently venturing into the realm of RNA vaccines to explore new avenues to combat diseases. With a keen interest in pathogenesis, Melissa aims to pursue graduate school to further study host-pathogen interactions. Her commitment to understanding the intricate mechanisms behind infectious diseases is partly driven by her desire to help address health concerns related to viral infections. In addition to her scientific pursuits, Melissa recognizes the importance of fostering engagement between students and professionals. As she actively encourages conversations surrounding ethics in science and technology, Melissa aims to create a more inclusive environment within the scientific field. She ultimately aspires to promote access and retention of underrepresented students in scientific research as she continues her research journey.
« Back to profiles