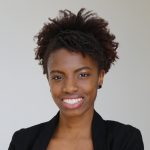 Randi Williams
Department: Media Arts and Sciences (MAS)
Degree Objectives:
Doctor of Philosophy, (Ph.D.)
Undergraduate Institution(s):
University of Maryland, Baltimore County
Hometown:
Prince George's County, Maryland
What do you wish you would have known before deciding on MIT?
How to plugin with the communities that are most important to me. This is important for any graduate school decision!
Why did you decide to ENROLL at MIT for your graduate school?
As an MSRP alum, I felt that MIT and, specifically my department, was the best place to complete the work I wanted to within a supportive family. At MIT, I have access to the resources to become the kind of researcher and professional that I would like to be.
Graduate Student Groups/Organizations
Academy of Courageous Minority Engineers (ACME)
Black Graduate Student Association (BGSA)
Get in touch with Randi!