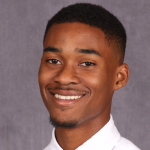 Myles Sampson
Department: Architecture (Course 4)
Degree Objective:
SM
Undergraduate Institution(s):
Tuskegee University
Hometown:
Pensacola, Florida
What do you wish you would have known before deciding on MIT?
I wish would've known that the late nights don't stop.
Why did you decide to ENROLL at MIT for your graduate school?
I decided to enroll at I MIT because the school sits at a unique intersection of architecture and technology. It has a perspective, unlike any other school. When I participated in MSRP I realized that MIT catapults you ten years in the future as soon as you begin your time here.
Graduate Student Groups/Organizations
Black Graduate Student Association (BGSA)
National Organization of Minority Architecture Students (NOMAS)
Get in touch with Myles!