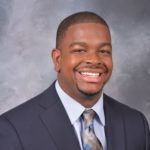 Michael West
Department: Mechanical Engineering (Course 2)
Degree Objective: Ph.D., SM
Undergraduate Institution(s):  Yale University
Hometown:  Rancho Cucamonga, CA
What do you wish you would have known before deciding on MIT?
Everyone here wants to help each other. That makes the transition less scary.
Why did you decide to ENROLL at MIT for your graduate school?
I think MIT gave me the best opportunity to learn what I needed to learn to become an expert in my field.
Graduate Student Groups/Organizations
Academy of Courageous Minority Engineers (ACME)
Black Graduate Student Association (BGSA)
University Center for Exemplary Mentoring (UCEM)
Get in touch with Aaron Michael!