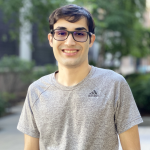 Axel Vera Sanchez
Department: Chemistry (Course 5)
Degree Objective:
PhD
Undergraduate Institution(s):
University of Puerto Rico, Rio Piedras
Hometown:
San Sebastian, Puerto Rico
You can ask me about:
MSRP, Chemistry, Genome Editing, CRISPR, Broad Institute
What do you wish you would have known before deciding on MIT?
I wish I would have known that the MIT community is super supportive and collaborative. MIT has brought the best in me and will bring the best in other students from the University of Puerto Rico.
Why did you decide to ENROLL at MIT for your graduate school?
I decided to enroll at MIT for graduate school because I knew I was ready to conduct graduate research at MIT thanks to the support of the Maximizing Access to Research Careers (MARC) Program at the University of Puerto Rico, Rio Piedras.
Get in touch with Axel!