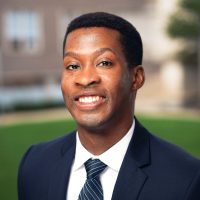 Arthur Brown
Department: Aeronautics and Astronautics (Course 16)
Degree Objective:
PhD
Undergraduate Institution(s):
University of Toronto
Hometown:
Toronto, Ontario, Canada

Why did you decide to ENROLL at MIT for your graduate school?
I wanted to come to the United States to get involved in the aerospace industry here and MIT seemed like the best route to take.
Graduate Student Groups/Organizations
Academy of Courageous Minority Engineers (ACME)
AeroAstro AeroAfro
Black Graduate Student Association (BGSA)
Graduate Student Council Diversity and Inclusion Subcommittee (GSC DIS)
Get in touch with Arthur!